Silver/poly(N-vinyl-2-pyrrolidone) nanocomposites obtained by electrochemical synthesis
Srebro/poli(N-vinil-2-pirolidon) nanokompoziti dobijeni elektrohemijskom sintezom
Аутори
Jovanović, Željka
Radosavljević, Aleksandra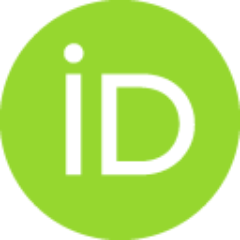 Kačarević-Popović, Zorica M.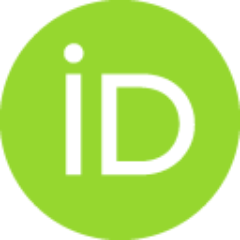 Mišković-Stanković, Vesna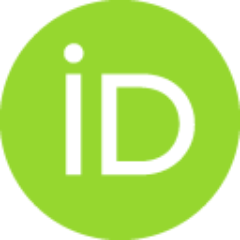 Чланак у часопису (Објављена верзија)

Апстракт
Silver/poly(N-vinyl-2-pyrrolidone) (Ag/PVP) nanocomposites were obtained by electrochemical reduction of Ag+ at a constant voltage, by in situ synthesis of silver nanoparticles inside a poly(N-vinyl-2-pyrrolidone) matrix, previously cross-linked by g-irradiation. Optimal values of synthesis parameters were investigated: the composition of the solution for swelling of PVP hydrogel, implementation time and applied voltage. Ag/PVP nanocomposites were characterized by UV-Visible spectroscopy, and IR spectroscopy. UV-Visible spectroscopy results showed that the reduction of silver ions was more efficient when the more conductive solution for swelling of PVP hydrogel was used, i.e., the solution containing 3.9 mM AgNO3 with 0.1 M KNO3. It was also shown that the concentration of the reduced silver increases with the increase in implementation time and applied voltage, up to values of 4 min and 200 V, respectively. The Ag nanoparticle size was estimated to be 25 nm, by comparison of the exper
...
imental results of UV-Vis spectroscopy with the theoretical predictions obtained by the calculations in 'MiePlot v.3.4' software, having the algorithm based on Mie scattering from a sphere. The results of FTIR spectroscopy have shown that Ag nanoparticles were mainly bonded to PVP by coordination bondages between Ag nanoparticles and N from the pyrrolidone ring of PVP.
Nanokompoziti srebra i poli(N-vinil-2-pirolidona), PVP, dobijeni su elektrohemijskom redukcijom Ag+ pri konstantnom naponu, in situ sintezom nanočestica srebra u umreženoj matrici PVP, prethodno dobijenoj radijaciono-hemijskim putem. Optimizacija elektrohemijske sinteze nanočestica srebra je vršena variranjem sledećih parametara: sastava rastvora za bubrenje PVP hidrogela, vremena implementacije i primenjenog napona. Prisustvo nanočestica srebra u Ag/PVP nanokompozitima potvrđeno je UV-vidljivom spektroskopijom, dok je postojanje interakcija između nanočestica srebra i molekula PVP potvrđeno FTIR spektroskopijom. Rezultati rada ukazuju na to da je redukcija srebra efikasnija kada se koristi rastvor za bubrenje veće provodljivosti, kao i da koncentracija dobijenih nanočestica srebra raste sa produžetkom vremena implementacije i povećanjem primenjenog napona.
Кључне речи:
silver nanoparticles / poly(N-vinyl-2-pyrrolidone) / nanocomposites / electrochemical reduction / spectroscopy / nanočestice srebra / poli(N-vinil-2-pirolidon) / nanokompoziti / elektrohemijska redukcija / spektroskopija
Извор:
Hemijska industrija, 2011, 65, 6, 687-696
Издавач:
Association of Chemical Engineers of Serbia
Финансирање / пројекти: