A kinetic study of the system phthalocyanine-copper(II) chloride-sulfuric acid
Authors
Stojaković, D.R.
Rajić, Nevenka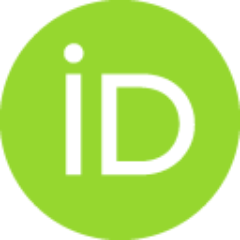 Article (Published version)

Abstract
In solutions of phthalocyanine, H2Pc, (c = 1-3 × 10-5 mol dm-3) and copper(II) chloride (c ≈ 10-3 mol dm-3) in sulfuric acid (c = 16-18 mol dm-3), two pseudo first-order reactions take place: (1) decomposition of H2Pc; (2) conversion of H2Pc into copper(II) phthalocyanine, CuPc. Reaction (1) is H2O concentration dependent and its rate constant increases from 0.088 to 1.88 h-1 as the H2SO4 concentration changes from 18 to 16 mol dm-3. The rate constant of (2) does not vary significantly with H2SO4 concentration and lies around the 0.05 h-1 mark. The CuPc formed in reaction (2) does not decompose under the above conditions.
Source:
Inorganica Chimica Acta, 1990, 171, 1, 17-20
Publisher:
Elsevier Science Sa, Lausanne
Funding / projects:
This work was supported Serbia, Belgrade, Yugoslavia.