Hydrothermal synthesis and structure of a new layered zincophosphate intercalated with 3-methylaminopropylamine cations
Hidrotermalna sinteza i struktura jednog novog slojevitog cinkofosfata interkaliranog sa 3-metilaminopropilamin-katjonom
Authors
Rajić, Nevenka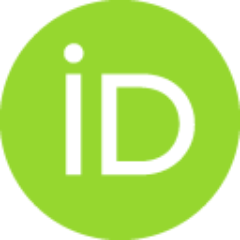 Zabukovec-Logar, Nataša
Stojaković, Đorđe R.
Sajić, Sanja
Golobič, Amalija
Kaučič, Venčeslav
Article (Published version)

Abstract
A novel layered zincophosphate (ZnPO–MPA) was prepared by hydrothermal crystallization using 3-methylaminopropylamine (MPA) as a structure-directing agent. The structure consists of macroanion [Zn2P3O8(OH)3]2- layers which are built up of 4-membered ring channels. The channels (of about 3.7 Å diameter) arise through the connection of the neighbouring rings by two oxygen bridges. The negative charge of the layers is compensated by diprotonated MPA molecules which are stacked parallel to the ring channels. ZnPO–MPA is stable up to 300 °C. At higher temperatures MPA decomposition begins followed by a dehydration, which occurs through condensation of the framework hydroxyl groups. The activation energy of the MPA decomposition is high due to the fact that the layers and MPA cations are held together by strong hydrogen bonds.
Jedan novi slojeviti cinkofosfat (ZnPO–MPA) dobijen je hidrotermalnom kristalizacijom korišćenjem 3-metilaminopropilamina (MPA) kao agensa za usmeravanje strukture. Struktura se sastoji od makroanjonskih slojeva [Zn2P3O8(OH)3]2- koji su izgrađeni od kanala u vidu četvoročlanog prstena. Kanali (prečnika oko 3,7 Å) nastaju povezivanjem susednih prstenova preko kiseoničnih mostova. Negativno naelektrisanje slojeva kompenzovano je dvoprotonovanim MPA koji su naslagani paralelno prstenastim kanalima. ZnPO–MPA je stabilan do 300 °C. Na višim temperaturama počinje razlaganje MPA koje je praćeno dehidratacijom, a ova se dešava putem kondenzacije hidroksilnih grupa rešetke. Energija aktivacije razlaganja MPA je velika zbog toga što se slojevi i katjoni MPA uzajamno drže jakim vodoničnim vezama.
Keywords:
inorganic compounds / chemical synthesis / electron microscopy / X-ray diffraction / crystal structure
Source:
Journal of the Serbian Chemical Society, 2005, 70, 4, 625-634
Publisher:
Serbian Chemical Society, Belgrade